How sustainable is this biobased packaging foil?
A reality check of the home compostability of the certified biofoil.
Project : Checking the home compostability of Lovechock's biobased packaging foil. For : Lovechock Role : Design Coach At : Design for Good
Objectives
To check the actual home compostability of the packaging foil that is certified Home Compostable and to assist with the communication about the new foil.
Good
After thoroughly investigating sustainability claims, certificates and labels of suppliers of biobased packaging foils Lovechock and Design for Good decided to actually verify the home compostability of the foil that was chosen for the brand's chocolate bars. A test was set up in Jop's Amsterdam backyard compost barrel. It stands in the shade, so if it works there, it will work anywhere. For 93 days foils were kept buried inside and every week at least one foil was taken out and carefully observed and photographed. Details can be viewed in the blog part of the website. The celluloid based foil degraded very well. Conclusion: Lovechock is using a great renewable, biobased packaging material that can easily be turned into fertile compost in a home compost barrel. See the end result and a selection of the foils below, in order of removal from the compost barrel.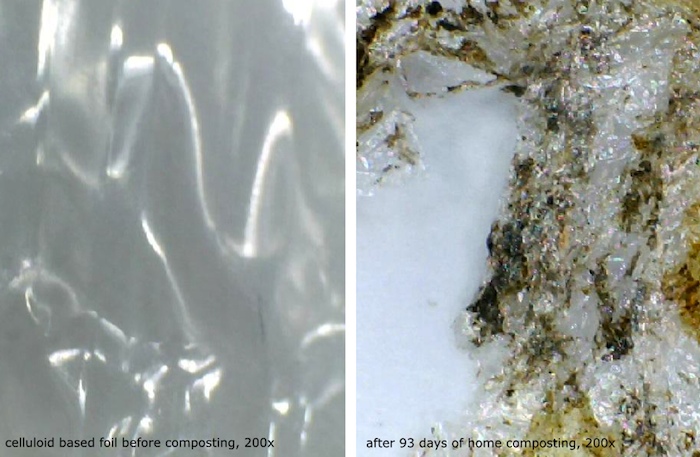 Materials used
Home compost barrel, 20 foils, rope, wire.
Further development
Lovechock is happily using the tested packaging foil. If you want to learn more about biobased packaging foils or if you want to have a similar reality check done with your materials contact Jop here.

Movie
The reality check project by Design for Good of the home compostability of the certified biodegradable packaging foil of Lovechock is now captured in a 1 minute 42 seconds YouTube movie. The degradation of the foil is visualized very well. Check it out!
Skills: innovation coaching