Sustainable housing: Villa 4.0
By
Jop Timmers
Turning a 1967 bungalow into a modern, highly sustainable villa.
Interior Designer Sanne Schenk of IDing showed me this great example of sustainable architecture: Villa 4.0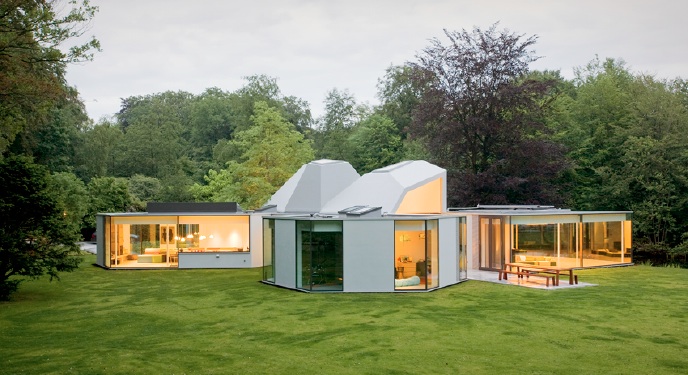 Background
The owner of the building got inspired by natural living when he was making a world trip with his family on a sailing boat. Making electricity and drinking water yourself and carefully dividing waste became everyday's habits and back at home the family decided they wanted this sustainable thinking to play a crucial role in the design for their new home.
They bought a nice piece of land with a 1967 bungalow and asked Dick van Gameren Architects to make a new design for the building that been rebuilt two times before (in 1972 and 2001). IDing was asked to take care of the interior design and Michael van Gessel Landscapes redesigned the nature around the house.
Design
The earlier expansions were forming a barrier between the house and the beautiful surroundings. The connection with nature had to be both restored and newly created.

The house has expanded quite a bit but it has a lovely modern look and feel that does is not out of place in the nature around it. Instead the harmony between inside and outside is emphasized. Concrete floors continue outdoors, creating beautiful lines and shapes.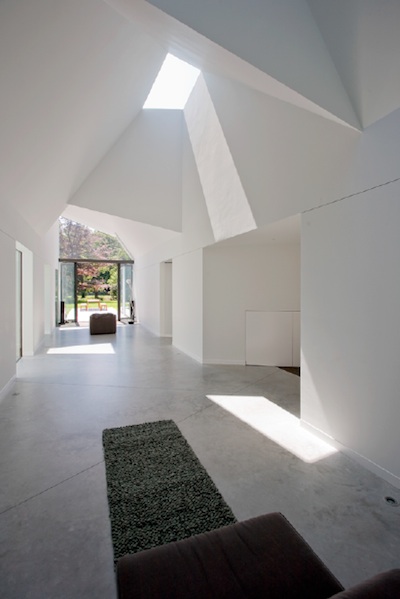 From every room the surroundings can be seen, often through huge windows.
The building gives you the experience of being connected to nature. The lowered sitting area enhances this feeling even more, giving you a splendid frog's view on the trees, grass and sky. In the interior only natural colors were used, except in the kitchen and living room.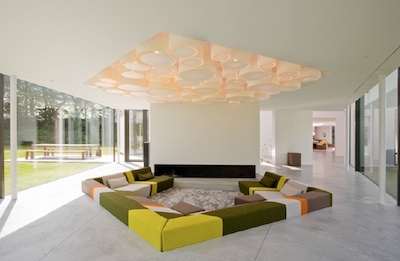 Sustainability
Using and old building and rebuilding it is in itself sustainable as many materials are reused. Existing plants and trees were dug out and replanted in other areas in the garden. Cut down trees were turned into logs for the high-efficiency wood stove in the kitchen. Burning wood in it two times a day for 1,5 hour provides enough warmth for 24 hours. A heat pump was installed as well as a solar water heater. All windows were replaced and wherever possible insulation was added. The bedrooms have floors made from bamboo. All lighting in the house is LED based, with a nice and warm color. The colorful cushions in the sitting room kitchen were made from the natural product felt.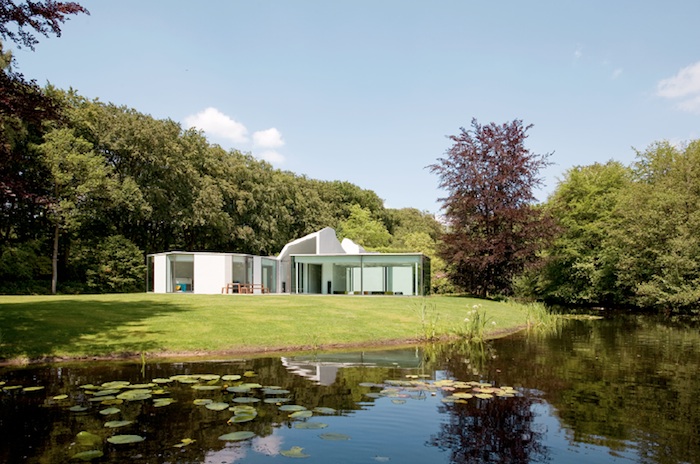 Category: design